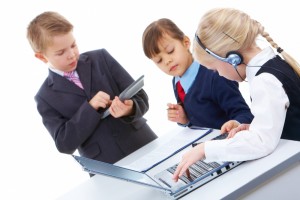 One of the best questions you can ask children is what do they want to be when they grow up. Children love to dream about what they want to be: a doctor, a lawyer, a pilot, an astronaut, a teacher…the list is endless. And it changes from year to year, as new trends become popular and technology changes. Children themselves will change what they want to be from year to year as they grow up and develop new ideas. They will probably even change their choice from month to month, and possibly from day to day.
The Classics
Over the years, however, some trends stay the same. This past year alone, some of the popular career choices children chose were doctors, astronauts, teachers, veterinarians, firefighters, President, and race car driver. Some have big dreams of becoming an athlete, music star, actor, or ballerina. With all of the reality shows based on singing and dancing, it's no wonder that these career choices are very popular with children. It's important that these types of careers stay on the list so that children can learn about culture as they grow up.
With all of the electronic devices attracting our children's attention these days, it's good to know that they are still exposed to the culture that surrounds us and enriches our lives. It's also just as important that our children still have ambitions to be doctors, lawyers, teachers, and vets. Careers like these will always be around, and must have new generations who want to enter them.
They Change Their Minds
As parents and educators, it's up to us to encourage children to believe they have the ability to become anything they want, and enforce that they can do anything they set their minds to, and work hard at. Even at a young age, it's important for children to believe they can accomplish their dreams and know that they have someone who believes in them. No matter how many times they may change their minds about what they want to do, they still need to be encouraged. This doesn't necessarily mean you should go out and buy every piece of music equipment they think they'll want to play professionally, or sports equipment, or any other kind of equipment, but little things, such as checking out books from the library on their career choice, will help them keep developing their ideas until they're at the age where it's time to really decide what they want to be when they grow up.
Playing Grown-Up
Children already have the most important tool to help them decide what they want to be when they grow up: their imaginations. Remember playing school when you were a kid? Or office? Or cowboy? Children's imaginations are huge and can create so many different situations with it. One day, they can pretend they're a teacher working at their school with a room full of eager students, the next day a cowboy working on ranch with a lot of horses, and the next day an astronaut flying to the moon.
Sometimes, as adults, we get so caught up in the stress of the day-to-day that we forget to ask ourselves "what would you do if you could do anything?" It's important to take a little inventory, and make changes if something isn't making you happy. So encourage your children to dream big and believe in their dreams. Who knows how far the dreams will take them?
Related posts: