Eddie Bauer Endeavor Travel System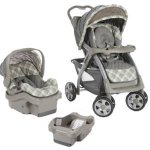 Stroller Line:
Eddie Bauer Travel Systems
Designed with a fully reclining seat so your newborn can nap as you stroll, and a quick click system that makes going from riding in the car to strolling on the sidewalk a snap.The Eddie Bauer Endeavor Travel System to get you where you're going. See More: …

Company Quote:
Every item, manufactured by Dorel Juvenile Group, meets regulatory safety standards and offers reliable construction with easy-to-use features. We offer a full line of seats ranging from an infant carrier to a booster to a 3-in-1 seats that converts from Infant to Toddler to Booster.
Key Features:
Specially designed insert for smaller babies
Includes 2 adjustableadjustable infant car seat bases
Securely fits infants 4-22 lbs
1-hand release gravity fold n stand
5-point convertible harness system
Large spring-down basket
4 recline positions
Dimensions: ( L x W x H )
18.4″ x 24″ x 36″
Weight:
Weight: 49 lbs | Weight Capacity : 42lbs.
Colors:
Brown
Reviews:
[..] Many moms swear by an infant car seat from birth and love to be matchy-matchy with their car seat and stroller. The Eddie Bauer Endeavor Travel System is a full-size, packed-with-features stroller paired with a matching Eddie Bauer SureFit Infant Car Seat. [..] Reviewed at: babyGizmo
"[..]The stroller is quite durable, ours has been through alot. The wheels are big and do well when rolling over anything from uneven pavement to loose gravel and smaller rocks. Even sand at the beach. There is a large basket beneath that holds all your take-alongs." [...]" Reviewed at:epinions
Other Eddie Bauer Strollers: