Eddie Bauer Adventurer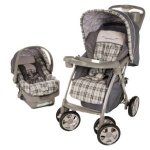 Stroller Line:
Eddie Bauer Travel Systems
Travel-friendly, classically styled on-the-go baby gear that directly reflects and enhances the Eddie Bauer name. Like innovative strollers that meet ASTM voluntary standards, 3-in-1 car seats that change with your child, and specially designed playards that set up in just minutes See More: …

Company Quote:
n a range of styles and colors, these strollers feature spacious market baskets, dual front swivel wheels and dual brakes on rear wheels.

All play yards boast easy assembly and are designed to fit through doorways when fully set up. They fold for convenient storage and fit easily into trunks.
Key Features:
Infant full body insert
Parent cup holder
Storage basket
Carriage mode
Adjustable harness
Dimensions: ( L x W x H )
34.0″ x 22.5″ x 18.2″
Weight:
Weight: 46.6 lbs | Weight Capacity : 50lbs.
Colors:
Pink / Brown
Reviews:
[..] We really love this travel system. Its easy to assemble and not bulky. We had a hard time trying choosing one especially cause Eddie Bauer tends to have non-girlie colors. But they came out with this pink and brown one just in the nick of time. We also purchased the matching play pen and high chair! [..] Reviewed at: babiesRus
"[..]My son is almost a year and having a stroller that can be reclined has been a god send when we are out shopping or hanging out at a festival. I love this system and have recommended it to all my family and friends. I look forward to my next child and ussing it for them, I will contiue to use the stroller for a while longer." [...]" Reviewed at:sears
Other Eddie Bauer Strollers:
Endeavor Travel System