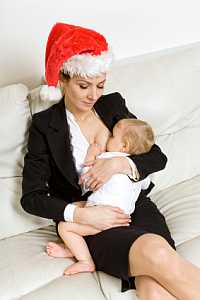 Moms that have little ones that are still breastfeeding around Christmas, find that it can sometimes present some extra challenges. The normal lifestyle changes during this festive season, and it can be difficult to maintain the normal breastfeeding routine. Here are a few hints to help you get through the Christmas shopping responsibilities, and still maintain a happy baby that doesn't take kindly to upsets in feeding routines.
Plan your shopping trips in short spurts
Most everyone dreads the Christmas shopping rush and moreso breastfeeding moms. The increased crowds combined with the having to lug around all the extra outerwear can exhaust one before they even get started. Chances are you are going to have to take your little one with you on your shopping trips. It's pretty difficult to get any significant shopping done during a 3-4 hour period which is using what the feeding schedule evolves around. So plan your actual shopping activities to run no more than 2 hours at the most. That gives you an hour to feed the baby at home, dress the youngster and arrive at your destination. Two hours for shopping. Then an hour to return home, catch your breath and be calm and relaxed for the next feeding.
Watch the timing of your shopping trips
Ideally the best time to go shopping when you are breastfeeding and have to take the baby with you is first thing in the morning. If you live in a cold climate you are going to have the extra burden of lugging all the extra outerwear around with you as well as the baby. It doesn't take long before you feel like you are in a sauna. First thing in the morning though, the malls are usually still quite cool as the temperature as been turned down overnight. There are less people shopping at this particular time as you don't have to deal with the workforce shoppers. Finally most often babies are at their happiest in the mornings so you are less likely to have to deal with a cranky youngster. Then of course the breastfeeding lounges are less occupied as well.
Pump your milk
Some babies that are breastfeeding really kick up a fuss when being fed in strange surroundings. Not only that, we all know how long the Christmas checkout lineups can be. Nothing is more frustrating to be standing in line for ½ hour and junior decides its time for lunch. You have to forfeit your spot in line and start all over again once feeding time is over. In this case having a bottle of your milk with you will coast you through this emergency. It is also a good backup as well if you get stuck in Christmas traffic and are forced to pull over to feed the baby.
These are just a few simple suggestions that may take the pressure off you as a breastfeeding mom this Christmas season.
This was a guest post by lior who is a consultant to a kitchen stools company and also is an advisor to storemed
Related posts: