Graco Vie 4 Stroller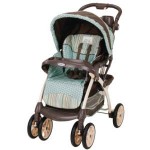 Stroller Line:
Graco Vie4 Series
The Graco Vie4 Stroller takes you from the circus to a peaceful walk in the park The Vie4 Stroller contains not only an organizer tray complete with a storage compartment and 2 cup holders but a child's tray for holding their juice box and cheerios See More: …
Company Quote:
Bring comfort and convenience to your adventures with baby using the Vie4™ Stroller. Both mom and dad will love its one-hand, self-standing fold—no more bending—height-adjustable handle, extra-large storage basket, and parent's storage tray with two deep cup holders. It also coddles your baby with a padded multi-position seat, and child's tray with cup/snack holder that pivots open for easy in and out.
Key Features:
Parent storage tray
One-hand, self-standing fold closes simply
eight-adjustable handle
Extra-large storage basket
Multi-position, flat reclining seat
Canopy with peek-a-boo window
Child's tray with cup/snack holder pivots open for easy stroller entry
Lockable front swivel wheels with suspension
Convertible 3- & 5-point harness
Dimensions: ( L x W x H )
Assembled: 29.5 x 23.5″ x 41.5″ | Folded : 28.5″ x 219.1″ x 12″
Weight:
Weight: 26.2 lbs | Weight Capacity : 40lbs.
Colors:
Inman Park | Betsey | Broadstreet | Olivia
Reviews:
[..] It's been years since I have purchased a stroller for anyone and I have never purchased one for myself. When I finally went to look at strollers, I was amazed at all the features, but what really shocked me was what a great stroller you could get for such a great price. This stroller has everything you could need in your "standard" stroller (eg: One w/out a travel system for those who already have carseats, etc.). [..] Reviewed at: amazon
"[..]I liked this stroller because I was looking for something that had a baby theme- I am not thrilled with all the fashion trend type strollers they have now. My first child is eight years older, so we had to buy all new for our new addition. I like the fact that this one has a full recline for when the baby wants to sleep- It also has a five point harness, which is nice because he still hasn't got full balance ) [...]" Reviewed at:epinions
Go from Graco Vie 4 Stroller to Baby Strollers