Graco Strollers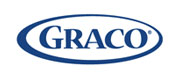 Variety of Strollers at Affordable Prices
History:
Graco Children's Products, Inc. was founded by Russell Gray and Robert Cone in 1942 in Philadelphia. They originally fabricated car and machine parts. Gray left the company in 1953 and focus moved to baby products beginning with the Swyngomatic. The Swyngomatic was the first wind-up baby swing and was an instant hit. Today the company handles all facets from designing to selling baby and children's products. Their line includes baby strollers, travel systems, car seats, play yards, soothers, swings, high chairs, activity center items, and nursery and care items.
Based in Exton, Pennsylvania, products are sold online and at retailers throughout the United States. Rubbermaid acquired Graco in 1996 and merged with Newell in 1999. Therefore, it is currently a subsidiary of Newell Rubbermaid, Inc.
Popular Graco Baby Strollers:
Graco MetroLite Stroller
Graco Quattro Tour Sport stroller
There are numerous features, several styles and colors, and four patterns offered for the strollers and travel systems. Prices of Graco strollers range from seventy to three hundred dollars for all types. Travel systems run from one hundred fifty to three hundred dollars.
Product Offering:
Graco strollers are available in lightweight, full-size and double. The lightweight models are the Ipo, MetroLite, SnugRider, LiteRider, Alano, and Mosaic. The full-size category includes the Alano FlipIt, Quattro Tour, Quattro Tour Sport and Vie4. The double strollers available are the Quattro Tour Double, DuoGlider and Twin Ipo. Also sold are travel systems which are divided into lightweight and full-size. The lightweight models are the Alano and LiteRider. The Quattro Tour, Spree, Passage, Stylus, Glider and Alano FlipIt are full-size travel systems.
The 2009 Consumer Reports Best Buys list included SnugRide, Vie4, and Quattro Tour Sport, and the Stylus Travel System. The MetroLite landed on the 2009 Consumers Digest Best Buy list.
In January 2010 Graco voluntarily recalled the Alano, Passage, and Spree strollers and travel systems. For more information check www.cpsc.gov.
T
Warranty:
Graco Baby for a period of one year from the date of initial purchase as their warranty.You will need proof of purchase and the warranty only extends to the original purchaser.
Go from Graco Strollers to Baby Strollers