Bumbleride Queen B Stroller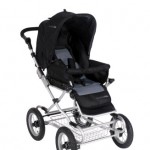 Stroller Line:
Bumbleride Single Strollers
The Bumbleride Queen B stroller is a stylish, modern day pram. This Bumbleride stroller now comes standard with the Queen B Bassinet, giving your precious infant a luxurious place to rest. With plush premium fabrics, a fully reclining seat and adjustable footrest, your little one will truly feel like royalty riding around in this Bumbleride stroller. Accessories included with the Queen B are the footmuff, air pump, bumper bar, cup holder, infant seat safety belt, headrest and shoulder pads See More: …

Company Quote:
A true Bumbleride icon, Queen B is the classic pram reinvented. Equipped with front steerable wheels and four air-filled tires, Queen B strolls like a dream. Tailored in plush fabric, the seat of the Queen B can be reversed whenever you like to allow parent and child to interact. New for 2010, Queen B comes standard with a bassinet, making it the ultimate modern luxury.
Key Features:
Includes Queen B Bassinet for infants up to 20 lbs
Reversible seat so baby can face you or the world
Quick release, one-push harness system
Height adjustable handlebar
Aluminum cargo tray
Dimensions: ( L x W x H )
Assembled: 42″ 23″ 45″ | Folded : 36″ x 23″ x 20″
Weight:
Weight: 13lbs | Weight Capacity : 50lbs.
Colors:
Lava | Ruby
Reviews:
[..] Fantastic stroller, if you like taking long strolls in the city. Very comfy and roomy for baby, great suspension, super smooth ride, giant shopping basket. Plus it has an optional toddler seat that I occasionally use with both babies -I have twins. It can be configured forward facing or rear facing. I absolutely *love* this stroller, because I walk everywhere. [..] Reviewed at: buzzillions
"[..]The design was the biggest draw for me. I did not want the run-of-the-mill, lets face it, ugly stroller. This is more beautiful than the pics. I love that it sits high, It folds very easily (but not compactly), I love that the baby can face me or the world, it is made well (will not fall apart easily). The footmuff is great, but I'm not sure that it can be used if the child is not laying down (bummer). The basket fits my huge mia bossi diaper bag with room to spare! Nice large canopy. I love the adjusting handle- perfect for adjusting to my (5.6) or my husband's (6.2) height. The handle also sits far from the seat, so those of us with long legs won't kick the basket when we walk [...]" Reviewed at:babiesRus
Other Bumbleride Strollers:
Go from Bumbleride Queen B Stroller to Baby Strollers