Bugaboo Bee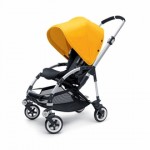 Stroller Line: Bugaboo
This complete infant to toddler travel system takes some of the most impressive features of the other Bugaboos and puts them in a more compact and lightweight stroller. See More: …
The comfortable seat of the Bugaboo Bee is reversible, so your child can face toward you or to the world, and the range of accessories adds value while accentuating this portable baby stroller's versatility. The new Bee includes a slight increase to the chassis width for better stability and performance. Its 4-wheel independent suspension system also features less rigid springs for improved maneuverability. The Bugaboo Bee rides on four 6″ foam-filled rubber tires, and the front wheels can be fixed forward for added control on rough surfaces.
Company Quote:
The Bugaboo Bee provides a safe and comfortable place for your baby or toddler up to 37.5 lbs to ride in style. The new and improved ergonomic seat design contours perfectly to your little one's body while in their natural sitting position. The new Bee also features an increased seat width to provide your child more space for a happier, more comfortable ride.
Key Features:
The most compact Bugaboo stroller
One-piece fold with carry handle
Maximum unfolded width of only 20″
Quick & easy maneuverability
Unique swivel wheel system
4-wheel independent suspension with foam filled tires
Reversible seat
3-position reclining seat is expendable
Height adjustable handle bar
Dimensions: ( L x W x H )
Assembled: 46.5″ – 55″ x 21.3″ x 33″ – 41″ | Folded : 35″ x 18″ x 12″
Weight:
Weight: 17.5 lbs | Weight Capacity : 37.5 lbs.
Colors:
Black | Blue | Khaki | Red | Yellow | Pink
Reviews:
"[...]It's great easy to turn, fold and flip the seat. Yes it is pricey but you pay for the quality. It's nice because you can change out the canopy colors. Both my son and daughter both use this. I am giving this 4 stars but not 5 since it is a little heavy to carry when folded. I would recommend this stroller for everyone[...]Reviewed at: buzzillions
"[...]Basicly what it comes down to is that I have spent a lot of money on strollers, I know the pros and cons and this stroller is the WINNER…. Do yourself a favor and just buy this one, it's the easiest, lightest and smoothest stroller out there! (just one more little note… it's so easy I held the baby and took it out of my trunk and opened it with one hand[...]" Reviewed at:babiesrUs
Other Bugaboo Strollers:
Go from Bugaboo Bee to Baby Strollers