Baby Jogger Switchback Trailer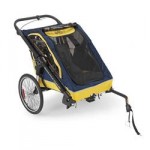 Stroller Line:
Baby Jogger Trailer Hybrid
For joggers and bicyclists the Baby Jogger Switchback Bike Trailer Hybrid has everything you need to bring not one but two of your children along
It incorporates Baby Jogger's patented, Quick-Fold Technology, making it the quickest and easiest folding trailer on the market today. No need for cumbersome conversion kits either. The Switchback conveniently has a self storing front fork and tow bar giving you options to make decisions on the fly (no tools necessary). With ample storage space, an adjustable handle and more, the Switchback is the ultimate trailer/jogger for active parents.See More: …

Company Quote:
The Switchback Hybrid is a revolutionary trailer/jogger designed with active families in mind. With the patented self-storing front fork and tow bar, parents can switch between jogger and trailer mode on the go with ease.
Key Features:
Patented Quick-Fold Technology
Patented front fork and tow bar
20″ pneumatic rear wheels 16″ frontwheel
Direct pull V-brake
Adjustable padded five-point safety harnesses
Built-in bug and wind/rain screens
Rear helmet pockets
Adjustable handlebar
Dimensions: ( L x W x H )
Assembled: 60″ x 34″ x 38.5″ | Folded : 29″ x 34″ x 25″
Weight:
Weight: 39 lbs | Weight Capacity : 100lbs.
Colors:
Navy | Yellow
Reviews:
[..] The Switchback collapses quickly: Just pull two handles on each side of the trailer. Opening it is just as easy. This is the biggest and heaviest of the five trailers tested. If you have an uncluttered garage for storage, or you want Junior to cruise in comfort and style on a long road trip, the Switchback is worth the extra money and space. [..] Reviewed at: bicycling.com
"[..]That said, when configured for either bike trailer or jogger, it feels light and maneuvers easily. Additionally, when configuring from jogger to trailer, or vice versa, the front brake cable is difficult to disengage / reengage in order to install or remove the front wheel. Finally, I was rather disappointed with the straps. It seems like it would be fairly easy to install a simple five point harness, similar to what is in a child car seat or high chair." Reviewed at:strollers.com
Other Baby Jogger Strollers:
Go from Baby Jogger Switchback to Baby Strollers