Baby Jogger City Elite Single Stroller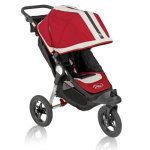 Stroller Line:
Baby Jogger City Series
The City Elite is equipped with premium standard features such as our patented Quick-Fold Technology, a 150 degree vented recline seat with retractable weather cover, and 12in. wide-tread comfort ride pneumatic tires. Besides adjustable handlebars and a bubble sun canopy that has clear windows a six pocket console is also standard. Foremost designed with safety and comfort in mind. See More: …

Company Quote:
The City Elite offers modern luxury and comfort over any terrain. Your little ones will ride in style while enjoying the plush seating, raised kicker and vented seat recline.
Key Features:
Quick-Fold Technology patented by Baby Jogger
12″ forever-air quick-release tires navigate smoothly over any terrain
Swivel front wheels – lockable if desired
Multi-position sun canopy
Patented universal accessory mounting bracket
Front wheel suspension provides a smooth comfortable ride/li>
Adjustable handlebar
Dimensions: ( L x W x H )
Assembled: 43." x 26.5″ x 39.5″ | Folded : 33.5″ x 27.75″ x 16″
Weight:
Weight: 26.2 lbs | Weight Capacity : 75lbs.
Colors:
Black | Sky | Stone | Green | Red
Reviews:
[..] We began searching for a jogging stroller that could be used for outdoors. We decided on this stroller and are very happy with it. We walk a great deal on rocks and sand and this stroller does well on both terrains. It has a great canopy that is covers the baby and makes it easy to walk even in the rain. Most openings are magnet instead of velcro and won't wake the baby when opening. The stroller is advertised for babies 6 months of age and older. We used a snuggly for the head and sides and used it when our baby was 3 months old. [..] Reviewed at: amazon
"[..]and finally have come to the conclusion to buy the City Elite. I like the stroller, it's easy to push, nice comfortable seat for your child and the parent console is very convenient. Additionally I love the sun canopy. No other stroller company has such a hood, and it really makes a difference. And no one will tell you that a Baby Jogger is difficult to fold- you can't get easier! (Although to open it is a little bit of a pain. Since you can't open it with one hand, because it folds in half, you can't be holding your baby and unfolding the stroller at the same time.) [...]" Reviewed at:epinions
Other Baby Jogger Strollers:
Go from Baby Jogger City Elite to Baby Strollers