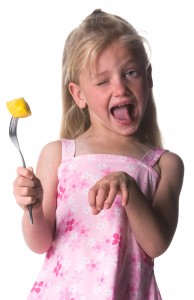 Vegetables are some of the best life-sustaining foods on the planet. They provide us with fiber, vitamins, minerals and other vital nutrients to remain in tip-top shape. Nutritionists say we should try to consume at least five servings of vegetables a day but while we as adults know this to be true and do our best to consume the magic number, kids do not feel the same way. Below are a five ways that help you convince your children to like their vegetables.
Puree 'em
One of the hot new ways to get your kids to eat their fruits and vegetables is to puree them into food. You can turn any vegetable into a juice or a puree, making them taste wonderful and be nutritious. You can also add vegetable puree to any number of classic dishes and desserts. Try sweet potatoes and carrots in spaghetti or cauliflower in macaroni and cheese.
Keep 'em crisp
One of the biggest complaints children have about vegetables is that they are soggy – which in their eyes, is gross. Unfortunately, the reason for this is usually the fault of the parents or whoever cooks in the family. Overcooking vegetables is actually one of the main reasons for vegetables getting such a bad rap. Overcooking vegetables makes them lose their natural crisp texture and makes them unpleasant to eat. While it may seems unnecessary, try to pick up a few cookbooks that focus on how to cook vegetables properly. You may be surprised at the reaction you get from your brood.
Bake 'em
Another way to hide vegetables while also making something delicious is to bake them into recipes. It can result in delicious recipes such as zucchini bread and muffins, carrot cake, sweet potato pie and squash bread. Vegetables such as spinach, carrots and blueberries can also be pureed and baked into desserts such as brownies. Many delicious baking recipes go hand-in-hand with vegetables. The juice from the vegetables makes the baked goods moist, delicious and healthy.
Top 'em
This is not the healthiest option available to you but it will definitely get results. Adding toppings to your standard and not-so-standard vegetables will make a delicious addition for many children. Roasted peppers or tomatoes with mozzarella or other melted cheese is a delicious way to get you kids to eat their vegetables. This may not be the healthiest option but put a little butter, salt or cheese on top of veggies like potatoes or brussel sprouts and you'll be surprised at fast they'll go.
Substitute 'em
There are many standard recipes that can get the healthy touch by substituting favorites with vegetables. If your kids love spaghetti then try using spaghetti squash instead of egg noodles. If they love creamed mash potatoes then substitute cauliflower for the potatoes so there is less starch.
In the course of history mothers have cajoled, bribed and threatened with the sole intent of getting children to eat their vegetables – but as you can see there are much more delicious and non-threatening ways to accomplish this. From baking and hiding to juicing and substituting, there are many ways to make vegetables fun. Try it!
Related posts: